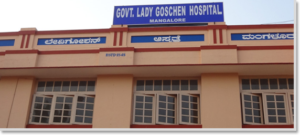 Govt Lady Goschen Hospital (Mangalore) : The Lady Goschen Govt Hospital Mangalore earlier known as the maternity, Hospital is the oldest hospital in the district and date back to 1848. This serves the people of the district and also the rural people of the bordering villages of the neighbouring state. The Kasturaba medical college of the city is attached to this hospital. The present bed Strength of the hospital is around 260. It has specialised services in the medicine, surgery, maternity, gynaecology, X-Ray unit Started at 1987.
CITIZEN HELP DESK STAFFS
| | |
| --- | --- |
| Manager | Shree Swamy K.Y.S |
| Volunteer | Reema.V.R |
| Volunteer | Vanitha.M |
| Volunteer | Varsha. R.PA L |
| Volunteer | Poornima. S |
HELP DESK ACTIVITIES:
Information and guidance to the patient on the facilities, charges for various services, etc to increase transparency and reduce corruption.
Awareness through IEC session near OPD counters- to spend waiting time effectively.
Reduced waiting time (Intercom or circular system for the service providers and information to the clients at OPD counter on non availability of doctors, machines (repairs) and stocks).
Improved patient understanding and cooperation and support the service providers.
Support emergency and needy patients.
Ensure confidentiality of the grievances addressed .
Register grievances and readdress them by referring to concerned officials and follow-up.
The CHD address the clients and their grievances following IPPF quality of care components on provider's needs and client's rights.
Presenting the report on grievances data analysis in periodical meetings with Unit heads.
Grievances not readdressed are placed in periodical meetings and Arogya Raksha Samithi to readdress them.